WILLEMSTAD – May 16, 2023 – The Curaçao Tourist Board (CTB) is reporting 48,450 stayover visitors for the month of April, representing a 13% increase compared to April 2022, when 42,715 tourists visited Curaçao. The fourth month of 2023 has been so far the strongest month in stayover arrivals this year.
Easter Holiday was in the first weekend of April 2023 and is historically known as a period when visitors flock to the island of Curaçao, this year was not an exception.
The table below shows the performance of 2023's months compared to last year, illustrating the positive performance of the past four months.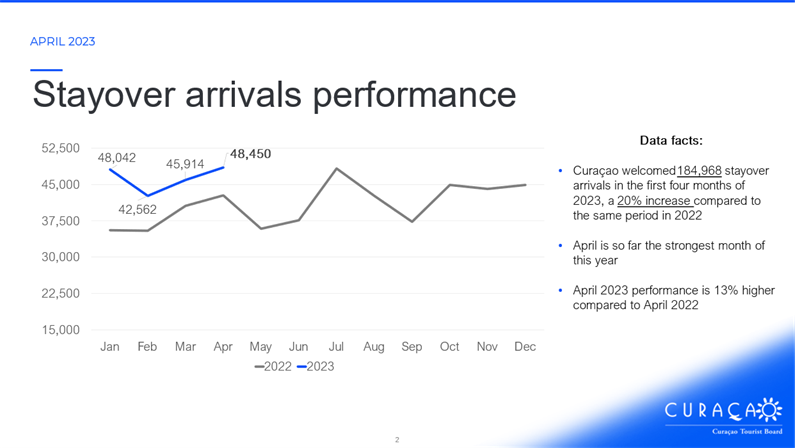 Stayover arrivals by region April 2023:
Tourist arrivals from the North American region showed a significant boost in April, with 92% increase marking a promising trend for continued growth out of the region. In total 14,198 North American visitors were recorded.
There is a substantial rise in visitor arrivals out of South America, as the CTB reports a 45% growth in arrivals. The Caribbean region also shows growth, recording 56% more visitors than last year.
Europe is the only region that fell in visitor arrivals (-21%), however its share of the total arrivals remains primary with 43% of all visitors travelling from Europe to Curaçao. The image below shows the performance of each region compared to last year, including the share of the total arrivals.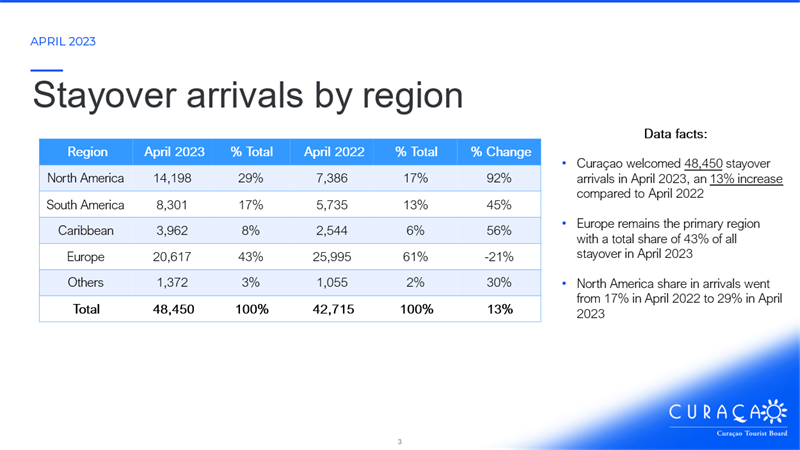 Top 5 countries:
Altogether the top 5 countries share in arrivals for April 2023 was 35,863 (74%) stayover visitors. CTB sees a decline in stayover arrivals out of the Netherlands, this is the impact of having less seat capacity out of the Dutch market, however the diversification of having other top countries performing spectacular is holding a positive performance. Out of the USA we have recorded 81% more visitors. One of the main reasons of this increase is the great collaboration between the public and private sector promoting Curaçao in the United States of America. In addition, the increase in service out of JFK with JetBlue is also effective as of April 6th. The image below shows the performance of the top 5 countries, including their top 3 states of residence of our visitors.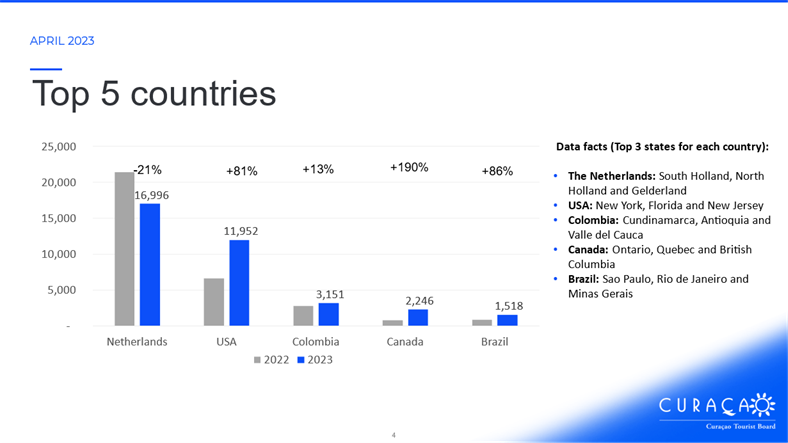 Accommodation, average nights, and demographics:
Information gathered from the Immigration card shows that altogether visitors spent 8.1 nights on average in Curaçao. Sixty-two percent of all the visitors stayed in resort hotels. Many of the visitors who travelled in April are between 25 and 44 years old (36%) and 45 and 64 years old (33%). The images below illustrate the accommodation and demographics of the tourists who travelled to Curaçao in April 2023.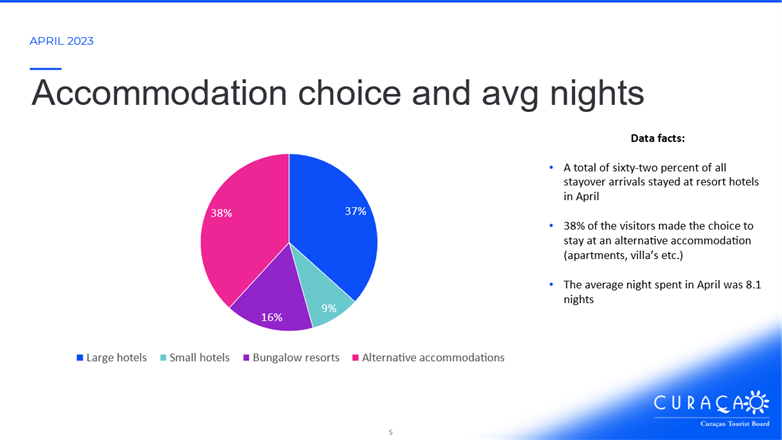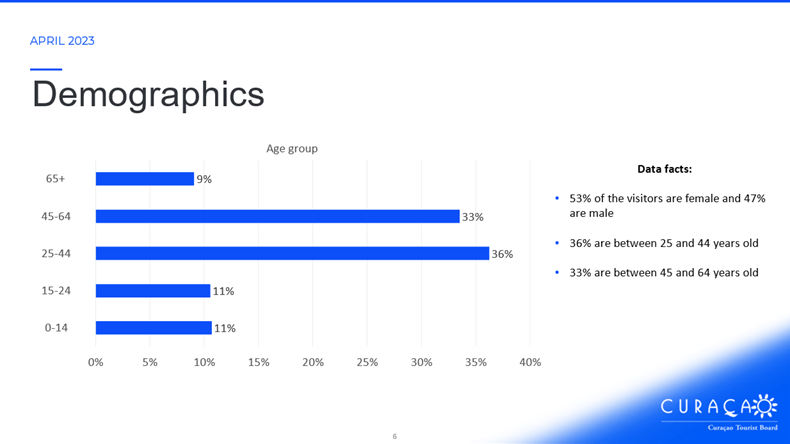 Cruise data:
There were 21 cruise ship calls and 52,312 cruise visitors in April, this year.
Last year, April Curaçao Ports Authority reported 19 cruise ship calls and 27,886 cruise passengers.