WILLEMSTAD – October 16, 2023 – Curaçao Tourist Board is pleased to announce significant growth in stayover tourism arrivals for the month of September 2023. A total of 45,952 stayover arrivals are recorded. The overall growth in tourist arrivals in September is a remarkable 23%, surpassing expectations for what is typically considered a slower month for tourism on the island. This achievement highlights Curaçao's year-round appeal and ability to attract visitors from various corners of the globe. Last year, CTB greeted 37,230 stayover arrivals in September.
Year-to-date statistics reveal an impressive performance for Curaçao's tourism industry, with a cumulative total of 419,020 stayover arrivals in 2023. This figure represents a substantial 18% growth when compared to the 355,662 stayover arrivals during the same period in 2022.
The image below shows the monthly performance of 2023 compared to the monthly target and last year's arrivals.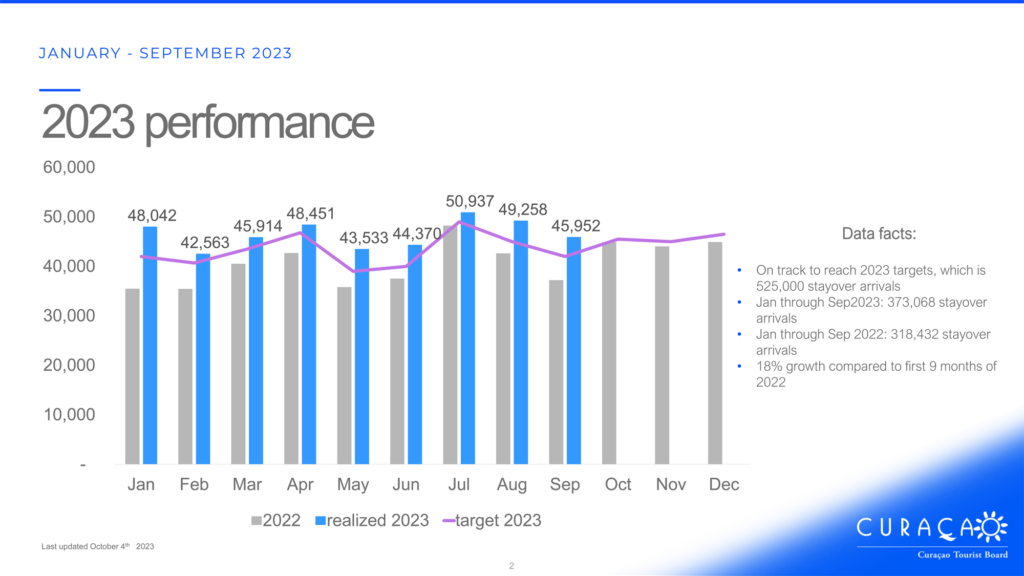 Stayover arrivals highlights in September 2023:
Brazilian Visitors: For the first time in a single month, Brazilian arrivals surpassed the 3,000 mark, demonstrating Curacao's growing popularity among South American tourists. A total of 3,079 Brazilian visitors are recorded in September, a 200% growth compared to September 2022. The once weekly direct service out of Belo Horizonte with Azul Airlines and other connecting options through Panama or Bogota, in combination with continued marketing efforts in Brazil is reaping its fruits. Because of the high demand in arrivals, Azul announced to increase capacity to twice weekly starting October. CTB expects the source market to close the year with spectacular arrival numbers. The current year to date arrivals out of Brazil are 17,477 arrivals, a 137% growth compared to the same period last year.
United States of America Visitors: From the United States of America, the market continued to show a steady total of arrivals of 10,497 arrivals in September, a 31% growth compared to September 2022. Curaçao has welcomed a remarkable total of 104,772 arrivals in the first nine months of 2023. It is the first time in history that Curaçao welcomed over a hundred thousand US visitors in a single year. With three months remaining in the year and incremental airlift seat capacity in the last month of this year, CTB anticipates this source market to also contribute to a spectacular record-breaking tourism year for Curaçao.
The Netherlands and Europe: The primary source market experienced a slight downturn, recording 4% fewer stayover arrivals, with a total of 15,333 Dutch arrivals in September 2023. The source market fell short with 630 arrivals. Last year a total of 15,963 Dutch visitors were recorded in September. It is the first time since the decrease in seat capacity that the Dutch market recorded a single digit decrease. The performance of the European region fell by 4%.
The image below shows the performance of each region compared to last year, including the share of the total arrivals.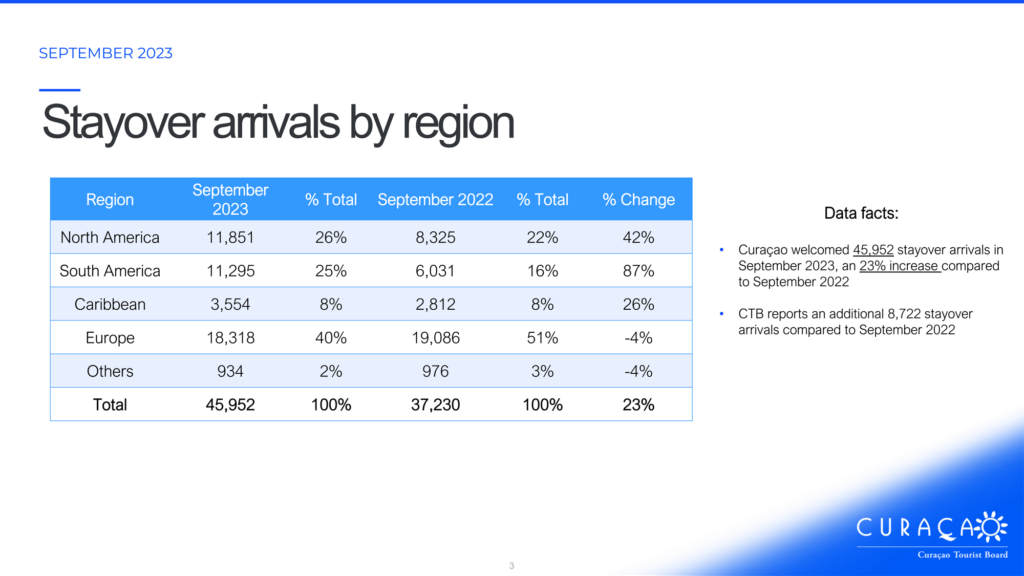 Top 5 countries:
Altogether the top 5 countries' market share in arrivals for September 2023 was 73%. The United States of America, Colombia, Brazil, and Canada recorded strong growth in September, respectively 31%, 53%, 200% and 331%. The Dutch market fell short recording 4% less arrivals in September 2023.
The image below shows the performance of the top 5 countries, including their top 3 states of residence of our visitors.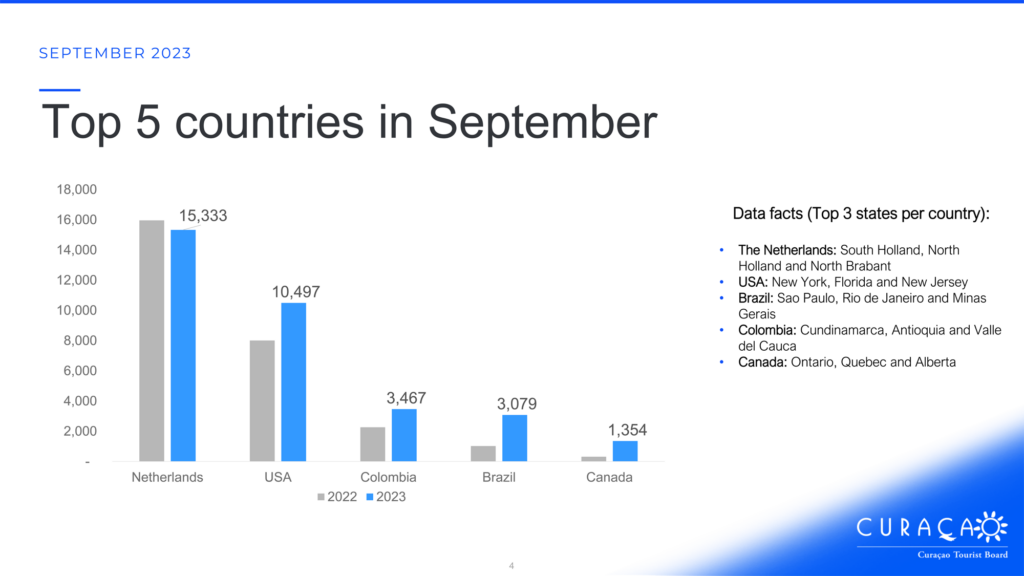 Accommodation type, average nights, and demographics:
Information gathered from the Immigration card shows that altogether visitors spent 8.3 nights on average in September. The Dutch visitor average night spent in September was 11.7 nights, similar as last September 2022. The US and Brazilian average nights in September were 6.1 and 7 nights, respectively. Fifty seven percent of all the visitors stayed in resort hotels. Many of the visitors who travelled in September are between 25 and 44 years old (45%) and 45 and 64 years old (33%).
The images below illustrate the accommodation and demographics of the tourists who travelled to Curaçao in September 2023.